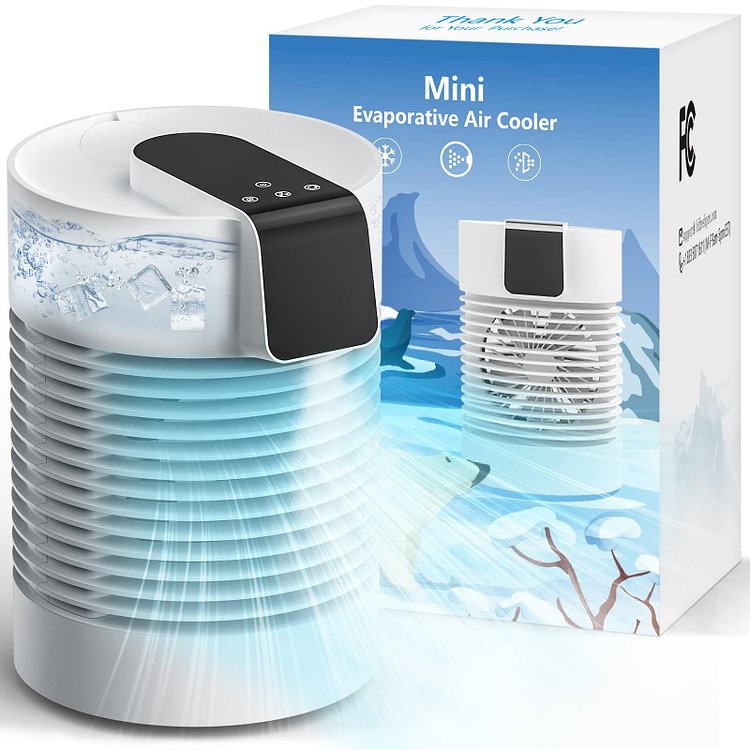 About this item
【Easy to Use】Moistened air can help prevent or minimize a variety of respiratory health issues, which is why you need a portable air cooler that can be humidified. Water can be filled by opening the rubber plug at the top. The water tank is sealed and there is no need to worry about water spilling out. The package contains a small screwdriver to easily open the inside of the fan for cleaning. And the breathing light on the top shows the remaining power. Just enjoy the breeze anytime, anywhere!
【Best for A Light Sleeper】Whether you're fond of the summer or not, a hot bedroom does nothing good for the quality of your sleep. 60dB, there will be some white noise, which's considered to help sleep. Mini Air Cooler combines both the power of a fan and the ability of water to absorb heat, making it the best fan for night sleep.
【Big Capacity Rechargeable Battery】A full charge can be used for 13 hours! With the universally compatible USB Type-C interface, you can charge or connect portable evaporative cooler with any power sources such as Power Bank, Laptop, USB Adapter, or Car Charger. It will become your best outdoor companion. Whether you are picnicking or tidying up the courtyard, it can make you feel better in the hot summer. Especially when there is a power outage, you will know that buying it is a right thing.
【Compact Size & 360° Rotation】Who said that small ones must sacrifice functionality at the same time? This small Desktop Cooling Fan has 3 wind speeds (low/medium/high), 2 spray modes (continuous/intermittent), plus 2 rotation modes (90°/360°), a total of 6 kind of collocation, you can choose freely. It is worth mentioning that its unique 360° oscillation mechanism, a wide range of rotation can increase their cooling space, make the air around the room circulate, and bring you cooler air!
【Fan/Humidifier/Cooler】If you live in a hot and dry area, you should consider buying an evaporative personal air cooler, because it can not only blow breeze, but also create cool, humid air by adding water by adding water to maintain a pleasant living environment.If you want to get extra cold, please add ice cubes (ice box included in the package), you will enjoy the sensation of cold air blowing directly onto you. Evaporative Air Cooler for room will bring you a cool summer like never before!
Specification
| | |
| --- | --- |
| Item Weight | ‎2.44 pounds |
| Product Dimensions | ‎6.69 x 5.51 x 8.6 inches |
| Noise | ‎61.5 dB |
| Part Number | ‎F-22 |
| Form Factor | ‎Sleeper, Compact |
| Special Features | ‎3 Wind Speeds, 17OZ Water Tank, Easy to Install, 2 Spray Modes, Fan/Humidifier/Cooler, Compact Size, Adjustable, 90°or 360°Rotation |
| Color | ‎WHITE |
| Voltage | ‎5 Volts |
| Wattage | ‎7 watts |
| Material Type | ‎Rubber |
| Included Components | ‎‎Evaporative Air Cooler *1, Detail Instruction Manual *1 , USB Cable *1, Ice Box *1, Screwdriver *1 |
| Batteries Included? | ‎Yes |
| Batteries Required? | ‎No |