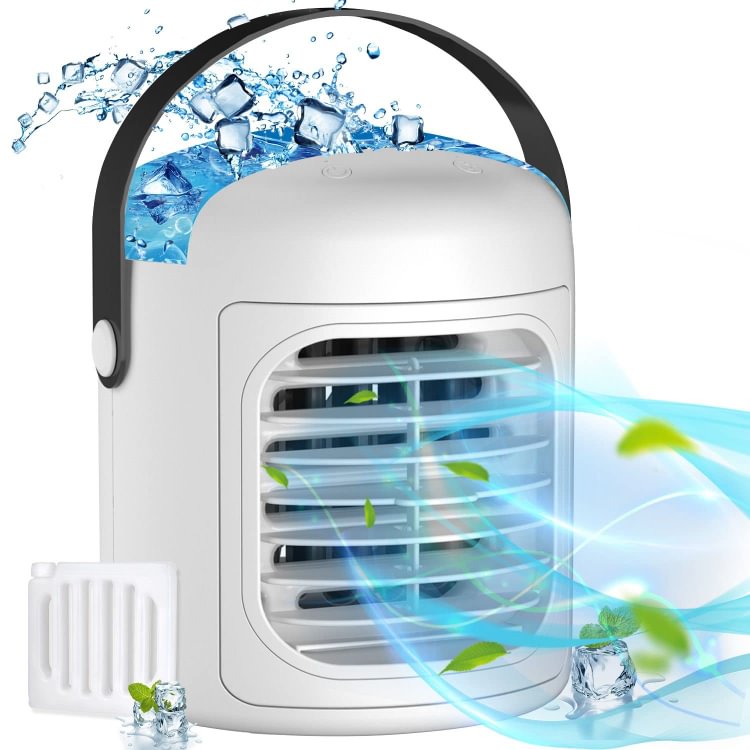 About this item
【3-IN-1 Fan/Humidifier/Cooler】If you live in a hot and dry area, you should consider buying our evaporative personal air cooler, it can not only blow the breeze but also create cool, humid air by adding water to maintain a pleasant living environment.you'll have a cool summer like never before thanks to this mini air conditioner!
【Customized Ice Packs】If you want to get extra cold, Fill the ice packs with water and freeze. and place in portable air conditioner.you will enjoy the sensation of cold air blowing directly onto you. Using both evaporative cooling and ice packs, our personal air cooler can quickly cool down, and at the same time, it can stay cool for a long time.
【NO Filter Means Not Moldy and Need't Replaced】Because we use ice packs rather than filters.Traditional air coolers claim that filters purify the air. In fact After a few months, the filter gets black and slimy ,although you use distilled water. You've spent more money replacing filters than you did on the portable air conditioner.
【Don't Worry About Overturning Because the Water Tank Is Completely Enclosed!】It's safe to use even if your child or cat touches it.Most portable air conditioners require a flat, stable surface to work. Can't tilt, use with caution. Imagine it getting tipped over.
【Compact Size and Built-in 2000 mAh Rechargeable Battery】The 7*6 inch size is perfect for tucking in a corner or putting on your desk, shelf, or nightstand to cool down your personal space. A full charge lasts 2-5 hours! With the USB Type-C interface, you can easily charge it from a Power Bank, Laptop, USB Adapter, or Car Charger.It's portable Work, play, or travel with it! Buying it is wise, especially if there is a blackout.
【Continuous Humidification】300ML large capacityyou can keep yourself away from dry air and enjoy the mist for 3-6 hours. The portable ac works best in hot, dry climates or to combat A/C dryness.
【7 Color-Cycle Lights 】Color-Cycle Option in 7 Different Colors! you can choose between automatic color cycling and fixing the color you want. when you don't need the light, you can simply turn it off while still enjoying the cool breeze.
Your will get
Portable AC*1
Ice Packs *2
Absorben Sponges*1
Type-C Cable *1