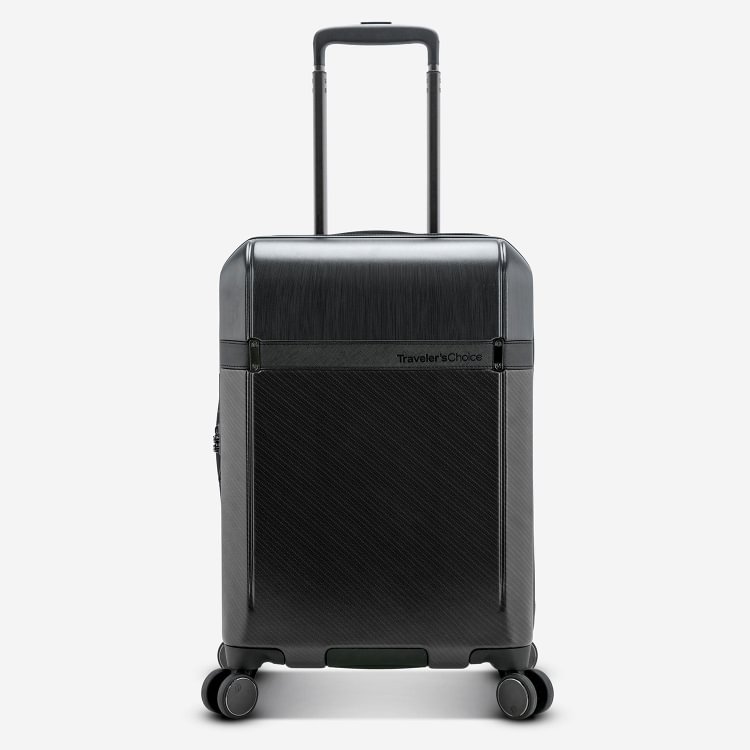 Our Vulkan Luggage Collection is built to be tough, sleek, and smart.
Impact-resistant 2-tone hard shell materials enhance durability.
The suitcase features a brushed metal finish on top and a carbon fiber finish on the bottom with accented with a leatherette trim.
Double coil burst resistant zipper effectively prevents the chain from being easily punctured with sharp objects under high pressure.
Built-in TSA compliant combination lock by Travel sentry provides extra security for stored belongings.
Multiple-stage retractable push-button handle system allows you to maneuver your bag with ease.
Matching color 360° mobility dual spinner wheel system provide effortless maneuverability and stability.

Fully-lined interior includes built-in laundry bag, center zippered pocket for accessories, large mesh zippered pocket and tie-down cross strap.

Reversed expansion zipper open to give 25% more packing ability.
Convenient top, side and bottom carry handles allow easy lifting.
Material: ABS + PC Film
Product Overall Dimensions:
21.5" x 14.5" x 9" + 1.5" depth gusset
Product Packing Dimensions:
19" x 13.5" x 8.5" + 1.5" depth gusset
Weight: 7.3 lb
Linear Dimensions: 45 in
Warranty Duration: 2 Years